Age: 67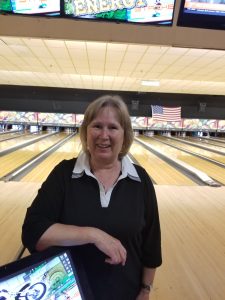 Birth Place: Southern California
League Bowls: Fil-Am, Monday Morning Coffee Mates
Bowling Info: WIBC Salinas Bowl, Monterey Womens Board, Charter Member Salinas USBC Secretary, Salinas USBC Hall of Fame/Life Member
When did you first start Bowling? 5 years old, Bowled all over the world. Father was in the Military
What do you like Best about Bowling? All the people that I meet and become friends with. Great people bowl.
Advice for future Bowlers: Learn the rules, learn how to keep score, and be courteous
Favorite Bowling Memory? I met my husband at Valley Center Bowl in 1993 and married 3 years.
Highest Score: 6 300 games, Highest at Valley Center Bowl 299
What do you like most about Valley Center Bowl? All the new improvements over the past few years, staff, and they let you pick your own lane!