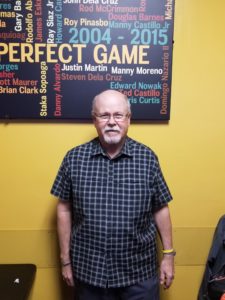 Age:71
Birth Place: Tacoma, Washington
Current Leagues: PBA Experience @ Cloverleaf, Thursday Mixed 5's @ Valley Center Bowl, 815 Majors @ Cloverleaf, The Weekenders @ Classic Bowl, Fremont Nikkei @ Milpitas, Cloverleaf Mash Club @ Cloverleaf
Bowling Bio: YABA (youth bowling) Coach for 20 years, Valley Center Bowl 1971-Current, 2015/16 Salinas USBC Hall of Fame member
When did you first start Bowling? 1959 – around the age of 11 or 12
What do you like Best about Bowling? Competition and Socializing. "It's you against the Pins, and doing a better job at scoring than your opponent"
Advice for future Bowlers: Of course enjoy the game!! But also, pay attention to each and every throw and shot. We get so caught up in the final score rather than focusing on shooting one frame at a time.
Favorite Bowling Memory? First 600 series back when these scores were harder to come by. Shot 7 in a row over 50 years ago.
Favorite Game? First 5 frames were open then punched out 7 in a row for a 195! Making adjustments is fundamental in bowling.
Highest Score: (8) 300's
Highest Series: 878
What do you like most about Valley Center Bowl? The social part! The bowlers are fun and very welcoming! The bowling community is very close knit.